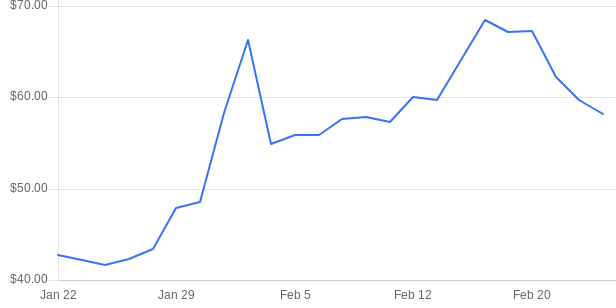 (Since this story is about investing, here's an investment image, showing what has happened recently with a slice of Tesla stock - not even a share, just a slice - purchased in Jan 2018 for $25.00.)

I need to do a piece (or a series?) sometime about what stock market activity means for Homewood, and for neighborhoods like it. I see no obvious connection, so whatever I do would have to suss out non-obvious ones.
Meanwhile, just a quick hit here to note that today, for the second time this week, the Dow Jones Industrial Average lost 1,000+ points. At close, the index rested at 25,762.33, down 1190.95 from yesterday, a 4.43% slump.
The loss was in line with tumbles in other indices. The S&P 500 lost 137.94 points, or 4.43%, for a 2,978.45 close; and Nasdaq fell 414.29, or 4.61%, to land at 8,566.58.
Two things make today's losses especially significant - if not for Homewood specifically, then for the economy and the nation generally.
First, the fact that they exacerbate what has already been a rough week for investors. On Monday, the Dow lost 1,032 points; Tuesday, it shed another 879 points, for the greatest two-day decline ever.
Second, that they came after a White House press conference yesterday evening, in which Trump tried to calm people regarding the spread of coronavirus by saying that the U.S. is "very, very ready" to deal with a possible pandemic- and announced his selection of Vice-President Mike Pence to oversee the federal effort to combat the disease (and perhaps more importantly, the federal messaging about it).
Investors were not persuaded.
Indeed, Goldman Sachs issued a note today stating their view that the ripple effects of coronavirus will torch profit growth for U.S. companies in 2020. Torch as in, reduce to ZERO. They even raise the spectre of recession.
Such a forecast increses the odds that tomorrow will be another down day for the Dow, and for equities in general. But if this week is a wrap, will next week be any better? Or are the markets in the early stages of a long-term slide, just days after the Dow had its highest close ever?
If it turns out to be the latter, that could hurt Trump's re-election chances (assuming that he is the Republican nominee, which I don't expect to be the case). During his entire presidency, he has boasted about the continuing bull market (which began under President Obama). It will be a lot harder to boast if the remainder of his term is a slide toward or into a recession.