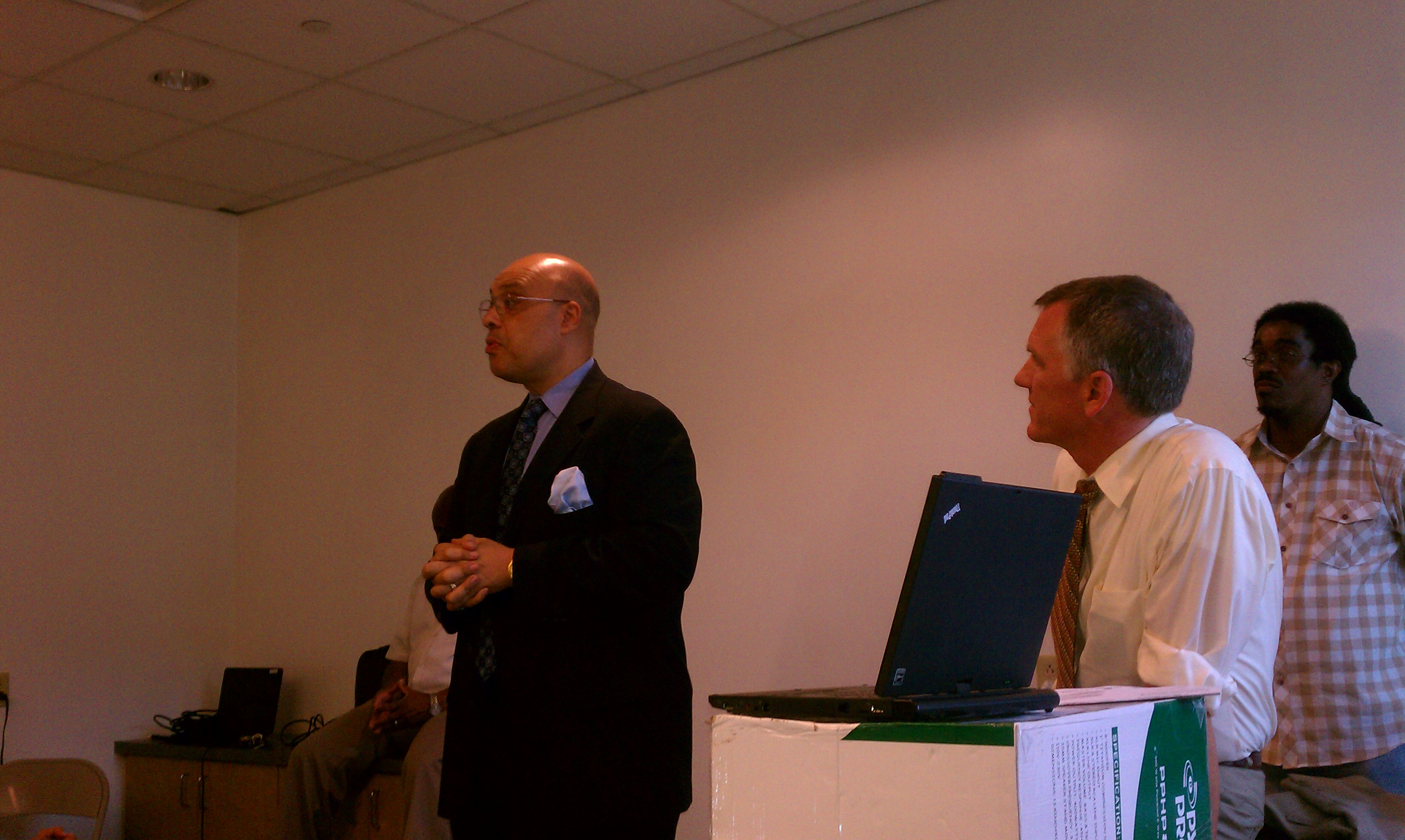 Councilman Ricky V. Burgess welcomes attendees to the first of two meetings scheduled to discuss the senior residence planned for North Homewood Avenue, as project architect Ken Doyno (c) and Operation Better Block Inc. executive director Jerome Jackson (r) listen.
Some 60 people crowded into the North Conference Room at the Homewood-Brushton YMCA Monday evening to hear about the senior residence planned for North Homewood Avenue, to ask questions about it, and in some cases, to express strong opposition to the project.
Project architect Ken Doyno, of Rothschild Doyno Collaborative, took about 15 minutes to walk the audiience through a slideshow highlighting five goals of the project, and how those goals influenced the design of the building to be placed at 524 N. Homewood Avenue.
But when the question-and-answer period opened, the very first question (from Karen Gilliam, who described herself as a "community advocate") did not have to do with the project goals or design, or even with the variances that Oxford Development and S&A Homes were requesting from the Zoning Commission:
I did an audio recording of the meeting in six parts, and here they are. Apologies for the varying quality, and next time I record, I will work at keeping audio clips a manageable size. Can't do anything about crosstalk, though.
1 - Operation Better Block Inc. executive director Jerome Jackson introduces the meeting, emphasizing that this meeting is to be about only the senior housing project.
2 - Councilman Ricky V. Burgess gives opening remarks. "Those of you who have done development know that...we will always be planning, and planning is a living process." This clip also includes what I believe are his first public mentions of what he calls the second phase of Bridging the Busway - 38 single family homes to be built near the Busway by Oxford Development. - and a new planning body, the East End Development Collaborative, to coordinate community development in Homewood, Larimer and North Point Breeze. Note: He refers to future meetings in July and August when I think he means August and September. (4:22)
3 - Councilman Burgess, 2. "The good news about this project is that it's completely funded." Other points: the mayor, state government officials and county government are all committed to redeveloping Homewood; the plan was always to do moreo than the senior residence; "This is our time. We absolutely postively can do it right now."; Oxford Development are here for the long haul. (6:59)
4 - Ken Doyno gives his presentation, referring often to the project's five goals: community based businesses, connecting the neighborhood, honoring historic Homewood, caring for our elders and commitment to sustainability. The housing units will be 1-bedroom and 2-bedroom (17:56) Here's a PDF of his slide presentation, if you'd like to browse it while you listen.
5 - Ken Doyno, 2. "We'd like to get your ideas and your thoughts and hear what you're for, and the things that you'd like to see improve." (Editorial comment: I consider that one of the best sentences I've ever heard.) "In every design move that we're making, we're trying to make sure that we keep these goals in mind." (5:06)
6 - Question and Answer, 1: After the video, there is a question about the size of the units; community activist Raqueeb Bey asks "Who picked the developer?" and follows with other questions; Verna Adams asks about parking and traffic flow; a Mr. Johnson asks about minority contractor participation; et cetera., et cetera, et cetera. Other speakers include Randall Taylor, Rashad Byrdsong and Ed Gainey, and Ms. Bey asks those who are opposed to the project to meet her in the hall to prepare for a separate meeting. 
If you can't wade through all of that, or want to go straight to what I believe may be the most significant segment, fast forward to 1:01:00, when Rashad Byrdsong and the Oxford Development representative Ben Kelley work their way to a verbal agreement, further solidified by comments from Ed Gainey.  (1:05:53)
There will be a second meeting on the project Monday, July 16, at 7 pm at the Homewood-Brushton YMCA.