It is late Tuesday afternoon, and I am just recovering from the weekend.
On Saturday morning, I joined some Race Street neighbors for our weekly cleanup. The idea is that each Saturday at 8 a.m., we collaborate to do a cleanup on one block of our five-block street. I think we've done it most Saturdays since June (but by no means all); we've promised ourselves to take it through the end of September.
I have learned that even things that I consider simple often become complicated. People disappoint each other, and/or misunderstand each other, and/or offend other, and something that in my mind should be so routine as to be boring becomes fraught with emotion, becomes dramatic.
Which affords me the opportunity to learn how to negotiate drama.
But I digress. I simply meant to say that Saturday morning I spent some time on the cleanup before rushing around like a crazy person to prepare for "Hidden Gems: The Architecture of Homewood," the program that Kilolo Luckett and I co-produced, that was given in the Homewood Carnegie Library auditorium.
In my view, the program went very well, once we got past some technical difficulties in the beginning. : more than 100 people attended; the presentation by the four speakers were enlightening; Post-Gazette columnist Tony Norman did a fine job moderating; we had a lively Q&A; and it seemed that people didn't want to leave. 
Afterwards, we went out for dinner. returning home around 10:30. After dozing at my desk, I went to bed and slept for 12 hours. Normally, without using an alarm, I will sleep for about seven.
Sunday was pretty relaxing, but yesterday brought the Race Street "Love Your Block" project, postponed from Sept. 8. Some 25-30 volunteers, including staffers from Mayor Ravenstahl's office, worked from about 9 am - 2:30 pm to transform two vacant lots into a parklet: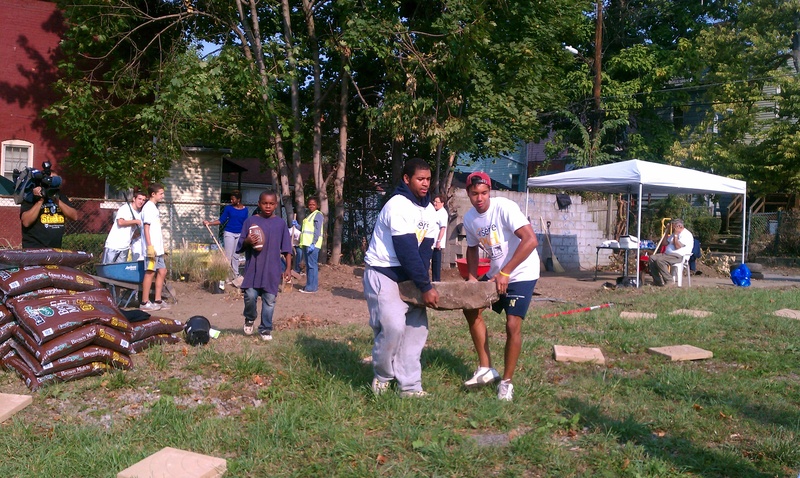 The project received coverage from the Post-Gazette, and from KDKA TV. Ashton Armstrong, of the Mayor's Office of Service and Civic Engagement, also took a ton of pictures.
I don't remember much of yesterday evening, but when I got to bed, I slept for 10 hours.
No further comment for now; I am going to take a moment to enjoy this moment before diving into my next immediate challenge - getting residents to come out for this month's meeting of Block Watch Plus.