NOTE: Daren A. Ellerbee is the director of the University of Pittsburgh's Community Engagement Center, scheduled to open in Homewood next spring.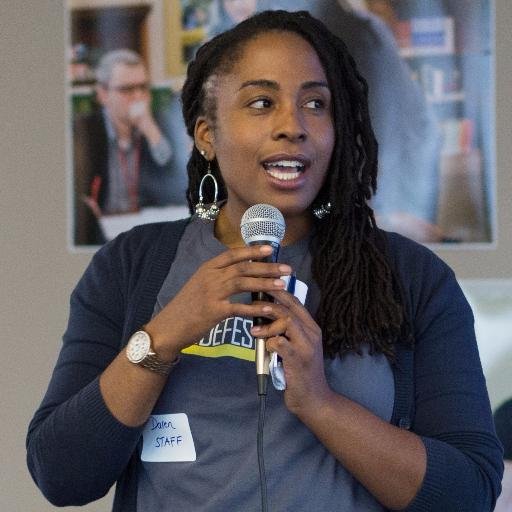 I come from a family of phenomenal women.
My grandmother was a nurse at Aliquippa hospital and ran a food bank out of her home. My mother is a recently retired social worker and has volunteered for organizations too numerous to list. Growing up I was often reminded verbally and by example that "we are called to take care of each other." I grew up knowing what I was expected to do and the woman I was expected to become.
I am the director of Pitt's Community Engagement Center in Homewood. My mother reminds me that I have been groomed for this opportunity my entire life. It is her words that continue to play out in my head as I approach a month in this new role. I do not take her expectations, and the expectations of the residents living in and around Homewood lightly.
The first of its kind in the Pittsburgh region, the CEC (short for community engagement center) is a place-based strategy that helps Pitt be a better partner to the community. It creates a "front door" for Pitt in the neighborhood and is a place where community and university people come together to work on projects and programs. The CEC is different from the organizations already in Homewood and isn't meant to replicate or replace programming already happening. It's a place where Pitt can align student projects with community efforts, faculty research with community concerns, and teach Pitt faculty, staff, and students about the history and life of the neighborhood so they can effectively participate in efforts throughout the community.
Even though the CEC is new, Pitt's involvement in Homewood is not, and one of the reasons Pitt wanted to develop its CEC in Homewood was to build on the strong relationships created between the School of Social Work and the Homewood Children's Village, School of Engineering and the Manufacturing Assistance Center at 7800 Susquehanna Street, and years of community-guided student projects, such as the English Composition class that worked with Mr. Green on this very blog.
I am charged with being Pitt's main point-of-contact in Homewood, bridging the community's interests and agendas with the University's mission of teaching and research. Upon accepting the position, I was proud to learn the level of university wide buy-in from all 14 schools at Pitt who have signed-on to support the Center including my beloved College of Arts & Sciences. (I forgot to mention that I am also a Pitt alum who studied Communication and Rhetoric & Africana Studies, class of 2004.)
While the nature of projects and programs of the CEC continue to be refined as we receive community input, we have an opportunity to leverage legal workshops from our School of Law, a diversity of health services (such as occupational therapy, physical therapy, and pre-sport checkups) that complement the services available at Alma Illery Medical Center, and business development and acceleration through our Institute of Entrepreneurial Excellence, just to name a few. My job is to bridge the community and university, and to help identify opportunities for collaboration between the two.
It's important to me that as many people as possible are knowledgeable about the CEC, and that they know the center is accessible to them. Though the CEC will not open until spring 2018, we are arranging a temporary office for me in the neighborhood. Until then, I can often be found at the Everyday Café or the Carnegie Library. You will also see me during many community meetings. Stop by and say hello. I truly want to hear from you!
You can also find out more online by visiting our website or following us on Facebook, Twitter, and Instagram.
The success of this Center is contingent upon community support and trust. I look forward to building both. Why? Because not only will the community hold me accountable, but my mother most certainly will. I do not want to be on the bad side of either.
**************************
To reach Ms. Ellerbee, drop her a line at d.ellerbee@pitt.edu, or give her a call at 412-852-7551.
*************************
If you find value in Homewood Nation, please help it to continue by using the button at the right to make a donation. Thanks!