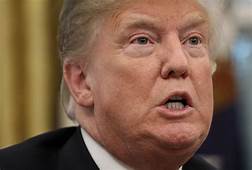 On October 13, the night of the last Democratic debate, I wrote:
I tuned in to the Democratic debate a little late. Joe Biden was speaking - apparently, about funding a new fight against cancer - and within 60 seconds, he said, "...once we get rid of Donald Trump."

I've put off saying this for at least a month. But here goes.

Democratic candidates need to stop talking about getting rid of Donald Trump. Debate moderators need to stop asking Democrats about beating Trump. Pollsters need to stop polling people to try to figure out who has the best chance of beating Trump. Democratic voters should definitely ramp up efforts to get out the vote in 2020, to take over the Senate, but not to defeat Donald Trump.

Democrats need not concern themselves with defeating Donald Trump.

Donald Trump will not be the Republican candidate for President.

He can't be.
*****************
When I wrote that, the impeachment inquiry announced by House Speaker Nancy Pelosi on Sept. 24 was in its closed-door phase. But the impeachment process was not my reason for writing it. Indeed, I had been saying it to friends and family long before the impeachment inquiry was announced:
"Donald Trump will not be the Republican candidate for President, because he can't be. He can't be because he has dementia. His mind is going, and it will be gone long before the Republican convention."
*****************
The single most important thing to know and remember about Donald Trump is that he is 73 years old.
Alzheimer's disease typically manifests in one's 60s.
The second most important thing to know and remember about him is that his father, Fred Trump, had Alzheimer's.
Alzheimer's tends to be hereditary.
When I look at Donald Trump with those facts in view, I see a man losing brain function - if not to Alzheimer's, then to some other form of dementia.
Incidents that I might otherwise dismiss or make light of as instances of mere stupidity appear much more significant.
Last month, he stumbled while speaking about his son Barron. While announcing coming restrictions on vaping products, he referred to his wife's concern for young people who may be affected:
"That's how the First Lady got involved. She's got a son - together - that is a beautiful young man and she feels very strongly about it."
That second sentence does not make sense when you read it. It also doesn't make sense when you hear it (at the 1:00 mark):
Verbal confusion has been a regular feature of Trump's speech for some time now. Remember when he said he hoped to see someone look into the oranges of the Mueller investigation?
And who can forget his July 4 reference to the Continental Army taking over "airports"?
*****************
I have six minutes until the start of tonight's Democratic debate. Not enough time to discuss instances of slurred speech, or Trump's diminishing vocabulary, or his mobility issues - a weakening gait and problems with balance. Or the moments of just plain weirdness, such as when he said that Melania Trump had "gotten to know" Kim Jong-Un, when she had never met him. Or him saying - multiple times -that his father, who as born in New York, was from Germany.
I'll just say this for now: pay attention to the man himself, the 73-year-old biological entity, to see if you see what I see. I'm a layman, and I could be wrong. If I'm wrong, I'm wrong. But if I'm right...
Well, if I'm right, then to the extent that tonight's debate assumes - as nearly all of the political discourse about 2020 has assumed so far - that Donald Trump will be the Republican candidate, it will be delusional. 
No Democrat needs to defeat Trump. His own brain is defeating him. He will only get worse, not better. And he will get worse more and more quickly. Because that is how dementia operates. His mind is disappearing, and it will gone long before November 2020. 
In fact, I'll hazard a prediction, based on the fact that the people around him see more than we do, and they see it up close: he will disappear from the White House (via resignation, not impeachment) by Jan. 31, so that Mike Pence can be put forth in Iowa.
Second prediction: Neither Pence nor any other Republican will inspire the cult-like devotion that Trump has. And without him, the Trump Party - for that is what the Republican Party has become in everything but name - will collapse.
So, here is the question that I wish to high heaven someone would ask the Democratic candidates, but which I'm sure no one will: "If President Trump is not the Republican candidate, how would that affect your messaging to the American people? What would you put forth as your point of PRIMARY emphasis?"
Or to put it more bluntly: "What else ya got?"